Highlights From Day 2 of the 2019 USA Trade Tasting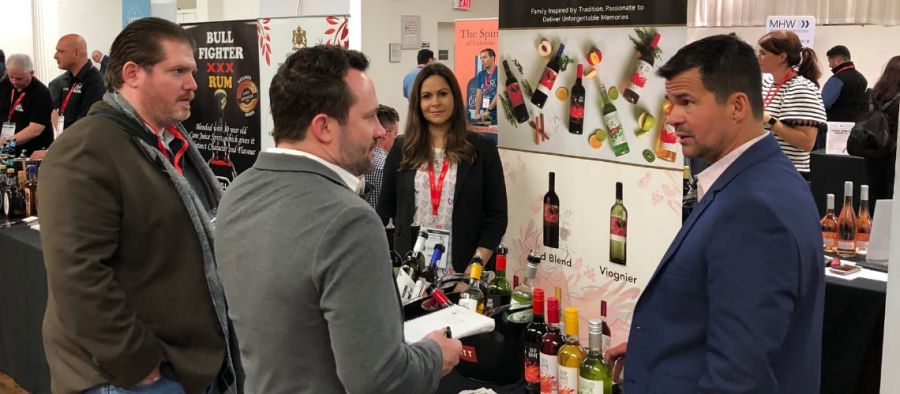 On May 14, the United States Trade Tasting (USATT) event returned for a second day to the Metropolitan Pavilion in New York City.
As on the first day of the event, Day 2 featured a morning session and an afternoon session of the Alcohol Beverage Importers & Distributors (ABID) Conference, as well as an active exhibition trade show floor featuring more than 100 exhibitors from more than 20 different countries.
The morning session of the USATT event showcased two speakers - Bill Sciambi, Co-Founder and Chairman of Verity Wine Partners – who spoke about the importance of hiring and retaining the very best talent, and Alexis Smith, former Director of Employer Branding & Digital at Anheuser-Busch – who gave her insights on how to manage your company and employer brand.
Sciambi discussed the core principles and concepts that should be used to hire the best talent, focusing on the importance of motivation and hiring people who believe in what you do. Alexis Smith, drawing on her prior experience of recruiting for beer giant Anheuser-Busch, talked about the various ways that companies can incentivize the best talent to join them. One key, she says, is that the candidate experience during the hiring process should emulate the employee experience. Borrowing an analogy from the world of beer, Smith pointed out, "If someone orders a lager, they don't want to be sold a stout."
Also during the morning session, Gordon Little, Co-Founder of Little Peacock Imports, talked about the brand-building process for any foreign winemaker looking to gain distribution within the U.S. market. Based on his own experience working with Australian wine brands, Little noted that wine brands need to develop a clear and specific pitch that is true to what they deliver to the consumer. "Authenticity sells," says Little. "Don't try to be everything to everybody."
Throughout the day, suppliers, importers, and distributors mingled on the main trade tasting floor. Over 100 exhibitors from 20 different countries gave participants an early look at some of the new wines, beers, and spirits that will soon be coming to the U.S. marketplace. Examples of Companies and brands looking for distribution included wineries from Argentina, Australia, Italy and Spain; craft distillers from North and South America; and spirits producers from locations such as Eastern Europe, China, and India.
In the afternoon session of the USATT, Daniel Sullivan, Wine Director of Super Buy-Rite, discussed what retailers are looking for from their distributors and importers. As Sullivan pointed out, the starting point for winning over retailers should be adopting best practices, especially those that help to establish a win-win relationship for the distributor and the retailer. Distributors need to be doing their part, he says, to boost the bottom line of retailers, such as by delivering products that deliver superior value and by committing to events such as in-store tastings.
Also in the afternoon session, legal expert Donna H. Hartman, Esq. discussed one of the most important (yet overlooked) aspects of operating a wine or spirits brand in the U.S. marketplace: protection of trademarks and other intellectual property. The time to trademark your brand, says Hartman, is before you open for business, rather than later. It's important to come up with a unique trademark and protect it at the federal level by applying to the U.S. Patent and Trademark (USPTO). That gives you the right amount of flexibility to protect your brand in the marketplace.
Finally, creative and branding expert Ben Salisbury ended the afternoon session with an encore presentation of his talk on "Modern Selling." The competitive dynamic of the wine and spirits industry continues to shift on a continual basis, and it's important for brands and companies to adjust their selling techniques for the new business reality. "Less is more," says Salisbury, especially when it comes to selling. The 80/20 rule is in full effect, meaning that 80 percent of your sales are going to come from 20 percent of your accounts. It might sound counter-intuitive, but the key to growing your sales could be narrowing – not expanding – your focus.
Overall, the two-day United States Trade Tasting (USATT) provided a unique opportunity to meet exhibitors from all over the world who are looking to grow their distribution in the U.S. market. Based on the enthusiastic response throughout both days of the event on the exhibition floor, it's clear that many of these exhibitors will be making an important mark on the U.S. alcohol beverage industry in 2019 and beyond.
About USA Trade Tasting (USATT)
The USA Trade Tasting event is committed to cultivating a better conversation among all tiers of the wine and spirits trade, connecting small and medium-sized wine, beer and spirits companies with the resources and connections to grow their business and their bottom line. The USATT is produced by Beverage Trade Network (BTN), which organizes events for the alcohol beverage trade around the world.