Daily Updates from the USA's Alco-Bev Industry : Running Blog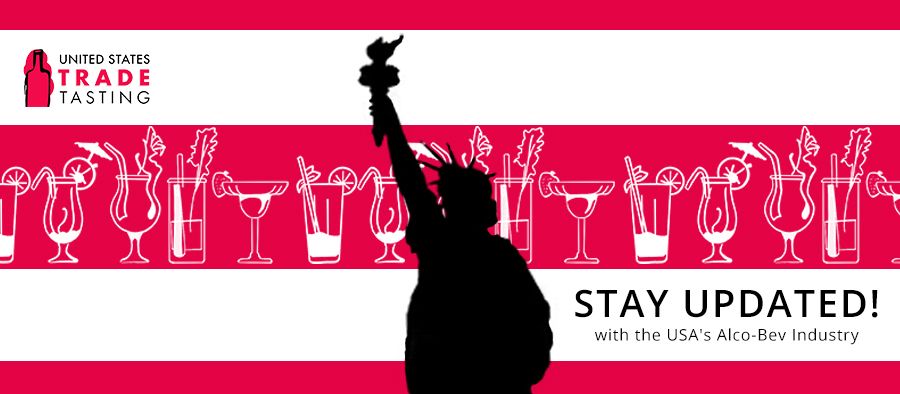 Stay tuned for daily updates from the USA Trade Tasting
22 June 2021
The Wolfcraig Scotch whisky distillery, co-founded by former Whyte & Mackay chief executive Michael Lunn, has revealed its location.
The development intends to prioritize sustainability.
The distillery will be able to produce 1.5 million liters of spirit per year, including Wolfcraig Highland single malt Scotch whisky and other spirits. The site also aims to promote Stirling as a tourist destination.
Wolfcraig Distillery hired Richard Paterson as the master blender last year.
To Read More Click Here
-------------------------------
Southwestern Distillery in England has released an 'experimental' Tarquin's gin with yuzu and lime.
Tarquin's Yuzu and Lime Gin (42 percent ABV) is a limited edition bottling created in one of the distillery's flame-fired copper pot stills in Cornwall.
Tarquin Leadbetter, the gin's founder, and master distiller was inspired to add yuzu to the gin after experimenting with it while studying as a chef at Le Cordon Bleu long before moving into spirits production.
The addition of Japanese citrus fruit is said to give the gin an "exotic edge"
To read more click here
-------------------------------
Georgie & Henners (G&H) Spirits has launched Initial Gin, a collection of three premium gins.
The trio includes LDN, the brand's signature London Dry expression; BST (British Summer Time), a "fresh, floral" gin; and OTG (Old Tom Gin).
Each expression is distilled in a copper still with a small number of botanicals before being bottled at 42% ABV.
To know more click here
-------------------------------
17 June 2021
Rockstar Spirits, a Manchester-based rum producer, received a £25,000 (US$35,400) investment on the hit BBC show Dragons' Den to help it expand into new markets.

Tom Hurst, Rockstar Spirits' founder, was featured yesterday evening on BBC One show Dragons' Den (10 June).
In exchange for a 2 percent stake in his Rum business, Hurste requested £25,000 for the 'dragons' – Debarah Meaden, Theo Paphitis, Touker Suleyman, Tej Lalvani, and Sarah Davies.
Rockstar Spirits launched in November 2018, offers seven aromatic rums, including Grenade over proofing and the Two Swallows brand. The Diamond Distillery in Guyana makes rums in spirit.
To read more click here
-------------------------------
Glen Moray, a Speyside distillery, has released the second expression in its Warehouse 1 Collection, a Scotch whisky matured in Tokaji casks.

The new Glen Moray 2005 Tokaji Finish follows the November 2020 release of a single malt matured in Sauternes wine casks.
It was the first release in Glen Moray's Warehouse 1 Collection, which is named after the distillery's Warehouse 1 in Elgin, which houses innovative, maturing casks.
The most recent addition to the lineup was distilled in October 2005 and finished in oak casks that previously held Tokaji Asz dessert wine from Hungary.
Glen Moray created 1,244 bottles for the UK market using five Tokaji casks from the warehouse. It has been bottled at cask strength (56.3 percent ABV).
To read more click here
-------------------------------
Otterbeck Distillery in England has released a cask-matured version of its Captain Sir Tom's Gin.
The new Captain Sir Tom's Limited Edition Barrel-Aged Gin honors Thomas Moore, a former British army officer known for his charity fundraising during the pandemic.

He passed away in February, at the age of 100.

Dougie Lampkin, co-owner of Otterbeck Distillery, met Moore while filming the ITV documentary A Day in the Life of Captain Tom, and honored
him with the release of Captain Sir Tom's Gin last autumn.

To read more click here

------------------------------
11 June 2021
Adelaide Hills Distillery has been acquired by Mighty Craft accelerator in a $47 million deal (the US $36.3 million), which will enable the company to become the most important craft spirit producer in Australia.
Adelaide Hills Distillery South Australia produces the 78 Degree brand, consisting of Australian whiskey, vodka, gin, vermouth, and G&T canned products.
In addition to the 75% stake in the Lot 100 plants, Mighty Craft has also purchased a 74-hectare area of a distillery, a cellar door, a restaurant, and a functional center in Adelaide Hills, together with Mismatch Brewing and Hills Cider, sister brands.
The company will continue to be co-founded by Sacha La Forgia, Ewan Brewerton, Steve Dorman, and Toby Kline to support the brands' growth.
To read more click here
-------------------------------
The sales revenues at Jack Daniel's Brown-Forman were boosted by double-digit gains for Tequila and premium Bourbon in the 4th quarter of its 2011 fiscal year.

Brown Forman's net sales rose by 14% over the three months ending April 30, 2021, to $812 million, while its operating income dropped by 10% to $168 million.
The company grew sales for 12 months to 3.5 billion US dollars, while operating profit grew 7 percent to 1,2 billion US dollars.
The sales growth of Q4 came following the Group's stagnant sales in March 2021 for the third quarter.
"The Brown-Forman performance in fiscal years 2021 demonstrates the resilience of our strategy and our employees and the strength of our portfolio and brands," said Lawson Whiting, president, and CEO.
To read more click here

-------------------------------
The Lakes Distillery has produced a single malt influenced by the patisserie, part of its whisky maker series, exclusively for the Harvey Nichols luxury retailer.
Le Goûter, the new term, is inspired by the sensorial experience of an 'excursion to Paris' in children's cake shops.
Whisky producer Dhaval Gandhi made the whisky, while artist Eili-Kaija Kuusniemi was commissioned by the producer to show their labels.
After releasing a single malt completed by Colheita Port-cask last September, Le Goûter is the second launch in The Whiskymaker's Edition. The sherry-forward design of the distillery ensures 'creative freedom' in the production of whisky, each bottling in the collection is different.
To read more click here

-------------------------------
10 June 2021
In the interest of further international expansion, UK distributor Proof Drinks launched its products on the Australian market.
The Australian subsidiary is the joint venture between Paul Ferguson and James McDermott, Proof Drinks owners, and Drew Doty and Craig Dearden, veterans of the spirit industry, who will lead the new operation respectively as managing director.
"For a number of years, we had been looking forward to launching in Australia, but we needed the right partners," McDermott said.
"Craig & Drew provide a wealth of experience in ensuring that brands grow effectively in the Proof Australia portfolio."
Brands like Tequila, Tequila, Kavka Vodka, Silent Pool Gin, Cut Rum, Mezcal Lost Explorer, Tequila, and Whiskey Proclamation will be brought into the Australian market through the partnership.
To read more click here
-------------------------------
In celebration of the 2021 United States Open Golf Tournament, Blended Scotch Dewar's started the 19-year old whisky
Bacardi-owned Dewar agreed on a multi-annual partnership with the US Golf Association in March of this year (USGA).
Dewar's will be the official blended Scotch whiskey for this year's 121st American Open Championship golf tournament.
It will be the U.S. Open Championship in San Diego, California, from 14-20 June 2021.
To celebrate its start next week, Dewar's released the 19-year-old bottling The Champions Edition in American former Bourbon barrels.
To read more click here
-------------------------------
The Luxardo Group of Italian Spirits unveiled its first line of RTD cocktails in the US.
The cocktail cherry producer is kicking off its canned collection with three flavors, developed 'to meet the unmet need for artisanal, bartender-quality RTDs'.
The canned Aperitivo Spritz is a mix of Luxardo's Aperitivo liqueur along with sparkling water and natural flavors, described as 'refreshingly sweet' with a note of orange zest.
Next up, the Bianco Spritz brings together Luxardo Bitter Bianco liqueur, sparkling water, and natural flavors for a 'drier, lighter, and more bitter' cocktail.
Rounding out the trio is the Sour Cherry Gin & Tonic, which combines Luxardo Sour Cherry Gin and sparkling water for a fruity riff on the classic.
To read more click here

-------------------------------
9 June 2021
Everleaf's non-alcoholic apéritif brand promised 1% of its total sales to charities that protect biodiversity.
Everleaf was founded on a series of 3 "spirits" of no-ABVs: forest, mountains, and marines by bar owner and conservation biologist Paul Mathew. Every product is inspired by its naming ecosystem, which uses "supporting products at the core of the brand" in these environments. Everleaf will continue to give at least 1 percent of its sales through the philanthropic network to conservation organizations for the Planet, which sees businesses committing a part of their earnings to environmental reasons.
To read more click here
-------------------------------
Chapel Down, the English producer of wine and spirits, wants to raise £6.9 million by crowdfunding and existing shareholders (US$9,7 million).
A Crowdfunding campaign is launched today (4 June) by the wine producer from Kent on the Seedrs to raise £5.5 million (USD 7.8 million). Meanwhile, the Chapel Down Group has already committed to purchasing £1.4 million (USD 2 million) in shares. In 2020, Chapel Down's volume of sales has increased by 38% to further expand its operations and e-commerce channels and further improve the quality of its wines. The company has also reached an agreement to lend PNC Business Credit to its lender provider, which includes a £3 million loan and a restructuring stock and payment financing facilities of up to £12 million.
To read more click here
-------------------------------
Bruno Mars, the American artist, has added a coconut-flavored variation to his Selvarey Rum line and launched a new campaign to promote it.
Mars revived his Selvarey Rum brand with a new look in November of last year. The line, which debuted in 2014, includes a white rum and a five-year-old expression with a chocolate flavour. The new Selvarey Owner's Reserve, which is only accessible through Reserve Bar, sold out in two hours. It costs US$149 and is created from rums aged between 15 and 25 years. Selvarey Coconut is the newest addition to the range, and it aims to 'elevate' Pia Colada cocktails. It's flavored with coconut aroma and produced with two-year-old rum.
To read more click here
-------------------------------
4 June 2021
White Claw, a producer of hard seltzer, has been named the Spirits Business's Supreme Brand Champion for 2021.
The growth of hard seltzers has been phenomenal, led by category titan White Claw. The brand has become synonymous with the category's success. Since its inception in 2016, it has grown by triple digits each year, and it now sells 58.5 million nine-liter cases per year as of 2020.
White Claw is comfortably ranked second on our top 150 list, but if sales continue at their current rate, it could overtake the world's bestselling spirit, Jinro, in the coming years. In a year when brands struggled to increase sales due to Covid19, White Claw soared, earning the title of Supreme Brand Champion this year.
To read more click here
-------------------------------
Following an 'unprecedented downturn' in 2020, the global alcohol market is making a comeback, with volume sales expected to increase by 2.9 percent by the end of 2021.
According to new data from IWSR Drinks Market Analysis, the global beverage alcohol market is showing 'signs of recovery after the Covid-19 pandemic caused a 6.2 percent drop in global alcohol volume sales.
Volume sales are expected to increase by nearly 3% in 2021, with total beverage alcohol consumption returning to pre-Covid levels by 2023.
Volume sales are expected to grow at a compound annual growth rate (CAGR) of 1.5 percent from 2021 to 2025.
Meanwhile, global spirits volume sales are expected to increase by 0.6 percent in 2021, with a 0.8 percent CAGR from 2021 to 2025.
To read more click here
-------------------------------
The Lost Explorer Mezcal has partnered with Infuse Spirits Group to expand its presence in the United States.
The Lost Explorer Mezcal, which has three agave spirits in its portfolio, is expanding its US distribution by partnering with Infuse Spirits Group to reach new markets.
For its single-bottle-infused vodka and whiskey brands, Infuse Spirits has established a presence in 34 states.
"We're thrilled to partner with Infuse Spirits Group to bring The Lost Explorer Mezcal to even more consumers across the country," said Tanya Clarke, CEO of Lost Explorer Mezcal.
To read more click here
-------------------------------
3 June 2021
Mangrove expands its alcohol-free offering in collaboration with Sea Arch.
Mangrove intends to increase Sea Arch's production, secure new off-trade listings for the no-ABV 'spirit,' and develop a 'robust plan' for working with the on-trade through a new distribution agreement. Sea Arch is currently available from retailers such as Ocado, Amazon, Farmdrop, and Virgin Wines, as well as in several bars and restaurants. In 2020 and 2021, the brand reported a 200 percent increase in sales.
Sea Arch, founded in 2018 by Sarah and Geoff Yates, draws inspiration from the coast of Devon, England, where it is made.
To read more click here
-------------------------------
Tobago Gold, a Caribbean rum liqueur brand, has received its first equity investment from a Portugal-based backer.
Former chocolate industry professional Manghanita Kempadoo has made a "strategic" investment in Tobago Gold based on the brand's global growth potential.
"I am delighted to be investing in Tobago Gold," Kempadoo, who is originally from Trinidad and Tobago, said. "The product is truly unique."
Lars Söderström, the brand's founder and CEO, and other investors have raised more than €275,000 (US$336,000) in funding to date. The funds will be used to establish an organization, develop products, and manufacture them. Additional investments will be made to assist the brand in entering new markets and expanding its distribution network across Europe.
To read more click here
-------------------------------
Foursquare Distillery supports research into rum history.
RL Seale has signed up for courses in the Department of History and Philosophy of the University of the West Indies to enable students to investigate the history of rum in Barbados.
According to Foursquare owner Richard Seale, the findings will serve as support for the application of the island as a UNESCO World Heritage Site for sugar and rum and will "naturally" support its application to the Barbadian rum GI.
To read more click here
-------------------------------
2 June 2021
The Label Makers, a UK label company, has created a new design for Royal Mash, an English vodka brand.
Regal Mash has unveiled a new label for their potato vodka that pays homage to the company's royal past.
The owners of the potato vodka company, Peter Le Fol du Taillis, and Rachel de Caen, enlisted Kirsty Holton of Manchester's Sip Studio to design the label and The Label Makers to create it, with the goal of achieving a completed product with "better presence and character."
To read more click here
-------------------------------
The second whisky in the Ardgowan Distillery's Clydebuilt series has been released.
The new Shipwright whisky is a blend of single malts from Speyside and Highland distilleries. It is said to smell like leather, marzipan, tobacco, and sandalwood.
Shipwright, aged in first-fill oloroso Sherry casks, is the second release in the Clydebuilt series, following the release of blended malt Coppersmith in 2019.
Martin McAdam, the distillery's chief executive, stated, "The feedback we've received from Coppersmith gives us great confidence in our ability to craft premium whisky with broad appeal." I believe this is our best dram yet."
To read more click here
-------------------------------
Glenmorangie introduces the Sonoma-Cutrer Reserve.
The new Glenmorangie Sonoma-Cutrer Reserve whisky is limited to 1,000 bottles. Glenmorangie describes the expression as one of their "most rare and unique creations."
Dr. Bill Lumsden, Glenmorangie's director of whisky creation, discovered the Chardonnay white wine from the Sonoma-Cutrer winery in Sonoma Valley, California, many years ago.
Lumsden wanted to investigate the wine's "fruity and floral flavors," so he borrowed a few casks from the winery.
In March 2005, he filled the casks with a batch of Glenmorangie single malt whisky distilled ten years before.
To read more click here
-------------------------------
1 June 2021
Gordon & MacPhail has secured a distribution agreement with Ron Cabezon, a botanical rum brand.
Ron Cabezon, a five-year-old gold rum from the Dominican Republic and Guyana, will be released in the summer of 2020. The rum from Guyana and the Dominican Republic is separated into two batches, each of which is subjected to two different processes. This comprises a few weeks of fruit maceration, the addition of Arabian cubebs to give the final flavour a "slight smokiness," and the use of West African kola nuts. With a touch of honey and Madagascan vanilla, the rum is finished.
To read more click here
-------------------------------
Amber Beverage Group, based in Luxembourg, has chosen Huber Brands as its distributor in the US travel retail sector.
Amber Beverage Group (ABG), the maker of Moskovskaya vodka and Rooster Rojo Tequila, started working together in September. The collaboration will now be broadened in order to strengthen the group's presence in the United States. Huber Brands will be the company's travel retail and duty-free distributor in the United States.
"This is a tremendously exciting opportunity for Amber Beverage Group to continue to develop our reach in the US through travel retail," said Angela Bosco, Amber Beverage Group's US brand director.
To read more click here
-------------------------------
In response to the company's salary freeze offer, GMB workers at Chivas Brothers sites in Scotland have established an overtime limit.
Workers from Chivas Brothers who are members of the Unite and GMB trade unions are set to strike at a number of locations across Scotland at the end of May.
The unions claimed Chivas Brothers had offered a pay freeze, while the corporation has promised guaranteed salary rises for 2021 and 2022. As a result, workers' unions balloted for strike action.
Calls for strike action were backed by more than four-fifths of GMB members. According to GMB, Chivas Brothers' Scottish locations were able to maintain full production during the pandemic.
To read more click here
-------------------------------
31 May 2021
The UK government has begun a six-week consultation on US tariffs, which could result in the elimination of duties on American whiskey.
On Monday, May 24, the government launched a public consultation on its response to US tariffs on European steel and aluminum, which former President Donald Trump imposed in 2018. The United States imposed 25% and 10% tariffs on steel and aluminum imports from EU countries, which included the United Kingdom at the time.
To read more click here
-------------------------------
Hornitos Tequila has partnered with the League of United Latin American Citizens to create a community outreach kit to increase Covid-19 vaccination rates among Latinos.
Latinos were found to have a higher prevalence of Covid-19 than non-Hispanic whites.
Furthermore, it is believed that a historical disparity in access to quality healthcare is contributing to the disproportionately high number of Covid-19 cases among the Latino community. In collaboration with Tequila brand Hornitos, Lulac, the largest civil rights Hispanic organization in the United States, has created a resource kit to translate information about the Covid-19 vaccine for Spanish speakers.
To read more click here
-------------------------------
375 Park Avenue Spirits, a division of the Sazerac Company based in the United States, has signed a distribution agreement with spirits brand Tommy Bahama.
From July 1, 375 Park Avenue will be in charge of the brand's sales, operations, and marketing. The Tommy Bahama Spirits portfolio, produced by Coral Cay Distilling and part of the Tommy Bahama lifestyle brand, includes 'tropically inspired' spirits and ready-to-drink (RTD) cocktails, such as a Cuban-style rum, rum-finished rye whisky, and flavored vodkas.
To read more click here
-------------------------------
28 May 2021
Glen Moray introduces the Private Cask Collection.
Glen Moray's Private Cask Collection is a collection of matured single malt whiskies from the Speyside distillery. The limited-edition series begins with a 13-year-old expression aged in Marsala barrels from Sicily. The first release will be in the United States, followed by a 10-year-old whiskey finished in Bordeaux Pauillac Grand Cru red wine barrels. Meanwhile, a 26-year-old Madeira cask-finished expression will be released in China as a follow-up.
The whiskies in the Private Cask Collection have been hand-picked for their "exceptional depth and character."
To read more click here
-------------------------------
Belvedere introduces the Organic Infusions range.
The new Belvedere Organic Infusions range has three flavors: blackberry and lemongrass with a hint of sage, lemon, and basil with a hint of elderflower, and pear and ginger with a drop of linden honey. The 40% ABV range is prepared with 100% traceable Polish rye and 100% certified organic fruits and botanicals. The range, like all of Belvedere's vodkas, includes no additives or sugar and is gluten-free and kosher.
The debut of the new collection also represents Belvedere's first foray into the organic market, which the company describes as a "natural evolution."
To read more click here
-------------------------------
Foxhole Spirits introduces a new gin as part of a sustainability overhaul.
Foxhole Spirits collaborates with English wineries to gather pressed wine grapes, which are generally abandoned, to utilise as the raw material for Hyke Gin Very Special. Grapefruit, Earl Grey tea, Lapsang Souchong tea, and lavender are among the 19 botanicals in the blend. According to Foxhole founder James Oag-Cooper, it is then combined with old grape brandy that has been "secretly" matured in ex-Cognac barrels for two years.
To read more click here
-------------------------------
27 May 2021
Waterford collaborates with an artist to launch a single malt whisky.

The Cuvée, a single malt whiskey from Ireland, will be released this autumn and will have Hewson's artwork Binary Assimilation on the bottle. The Irish artist was chosen by the distillery for her creative abilities to depict the 'layers and intricacies' within Waterford's distillation process. She is known for her work with optical illusions, colour, brightness, and forms. Binary Assimilation was created particularly for Waterford and will be printed on The Cuvée's bottle label to express "the enormous sensory experience of terroir-driven whiskey drinking."
To read more click here
-------------------------------
Diageo and Pronghorn have teamed up to promote diversity in drinks.
The owner of Johnnie Walker teamed together with industry veterans Dia Simms and Erin Harris to launch Pronghorn, a 'inclusive and diverse' economic project.
The alliance would seek to develop a 'sustainable and scalable' pipeline of diverse founders, executives, and entrepreneurs.
Pronghorn will establish a separate company that will focus on increasing diversity, equity, and inclusion in the beverag industry, as well as assisting people in the Black community in generating $2 billion in economic value in the United States. In the United States, the Black community accounts for 12% of alcoholic beverage drinkers.
To read more click here
-------------------------------
Proof Strength, a distribution company located in the Netherlands, is expanding Bacoo Rum and Ron Colón Salvadoreño global reach.
To offer rum brands Ron Colón Salvadoreo and Bacoo to Latin America, Central America, and the Caribbean, Proof Strength has teamed with Panamanian distributor PBG Group.
Pepijn Janssens, Thurman Wise, and Felicity Gransden released Ron Colón Salvadoreo in January of last year, with three expressions: a dark aged rum, a coffee-infused rum, both 55 percent ABV, and Rumrye, a 50 percent ABV combination of dark aged rum and four-year-old American rye whiskey, available from June.
To read more click here
-------------------------------
26 May 2021
Diageo, the owner of Johnnie Walker, has pledged £4.5 million (USD 6.3 million) to fund India's efforts to help Covid-19.
Diageo's commitment to India will create infrastructure for public health.
In government hospitals throughout 21 districts, the contribution will provide technology such as oxygen pressure swing adsorption (PSA), creating long-lasting oxygen capacity.
There will also be little hospital units with 16 beds each. In other 15 districts, PA oxygen plants will receive medical equipment such as fan beds through public hospitals in ten states. The supply will be made possible.
To read more click here
-------------------------------
E&J Gallo acquires cocktail shot brand Liqs
Liqs, the latest addition to the E&J Gallo portfolio, was founded in 2013 to fill the 'consumer need for a well-made shot for home consumption.
The brand sells 20% ABV wine- and spirit-based cocktail shots positioned as premium products, in flavors such as Lemon Drop, Kamikaze, Lychee Grapefruit, Tequila Cinnamon Orange, and Whiskey Fireshot.
In September, Liqs will also roll out bottled Margarita, Strawberry Margarita, and Mojito cocktails in a 1.5-liter format.

To read more click here
-------------------------------
Glenfarclas, a Speyside distillery, has launched a limited-edition single malt whisky in honor of its 185th anniversary.
The new Glenfarclas whiskey was produced this month to commemorate the 185th anniversary of the distillery's legal start in May 1836. Glenfarclas, which means "green meadow valley," uses spring water that comes from granite underneath the slopes of Ben Rinnes, a Speyside mountain. Water is mixed with malted barley and twice distilled in copper pot stills, with two-thirds of the batch going into Spanish Sherry wood barrels. The rest of the liquid is put into regular oak barrels. The whiskey was aged in barrels that spanned six decades.

To read more click here
-------------------------------
25 May 2021
Morrison Scotch Whiskey Distillers, a family-owned company, has unveiled their whisky range, which includes a new 15-year-old Islay single malt.
Mac-Talla, an Islay single malt Scotch whiskey, Old Perth, a blended malt whiskey, and Càrn Mr., a single malt whisky, are among the latest additions to the portfolio.
Mac-portfolio Talla's contains two expressions, Terra and Mara, with a third, Strata, set to emerge this month.
Strata is a 15-year-old whiskey with a velvety texture, earthy peat, and winter spices, making it rich and comforting with a beautiful smokey aftertaste.
The Original and Cask Strength whiskies are part of the Old Perth series, which will be followed by an aged collection this autumn. The Old Perth series is prepared using Sherry-matured malt from several unidentified Speyside distilleries in the Glenlivet region.
To read more click here
-------------------------------
Amass has entered the hard seltzer market with the release of three canned products: Surfer Rosso, Faerie Fizz, and Sun Sign.
Amass Hard Seltzers are created with organic sugarcane alcohol and natural plant extracts to provide a taste that is "complex yet crisp." Each expression has a 5% ABV and costs US$21 for a box of four 355ml cans. The flavors of Surfer Rossi include acidic hibiscus, sweet quince, and citrus, which are complemented by ginger, turmeric, and star anise. Faerie Fizz is made with petals and stems and has rose and jasmine flavors, followed by raspberry, green cardamom, and basil. On the other hand, Sun Sign has notes of sweet orange, oak, and 'milky vanilla.'
To read more click here
-------------------------------
Kahlúa, a coffee liqueur brand owned by Pernod Ricard, has introduced a new style to highlight its Mexican history and "coffee credentials"
The new mark was developed in response to Kahlúa goal to source 100 percent of its coffee responsibly by 2022. Furthermore, the brand has created an on-trade effort that gives training, money, and equipment to help baristas and bartenders improve their coffee-making talents. This new effort, dubbed the Coffee Clinic, also intends to assist coffee businesses in obtaining liquor licenses to provide coffee cocktails.
To read more click here
-------------------------------
21 May 2021
Door American Whiskey brand, co-founded by the singer Bob Dylan, has collaborated to create The Master Blenders' Edition in the collaboration of the Redbreast Irish Whiskey.
Heaven's Door 10-year-old Bourbon was finished for 15 months in Redbreast's 12-year-old Irish whiskey casks to make The Master Blenders' Edition. Aromas of leather, walnut, and spice, which lead to flavors of the bouquet, walnut, nut sweetness, raisin, and nougat are included in the degustation. With some sweetness and coconut, the finish is said to be 'sensitive.'
The Master Blenders' Edition was packed with 50 percent ABV in the bottle of Heaven's Door with a new design for the door, designed and chosen by singer-songwriter Dylan. A robin redbreast bird is also on the label.
To read more click here
-------------------------------
Rum's had a struggle uphill that spirit lovers had to take seriously. But, according to Tom Bruce-Gardyne, today's manufacturers are keen to capitalize on resurgent industry interest and bring the drink to the leader.
Rum and Coke may have made wonderful for volume but not for value, which are the most omnipresent drink. The world's third-largest spirit category is low-heavy, because of a sea of ordinary white rum and cheap spicy rum without a feeling of origin. In the US 85% were worth or premium in 2020, according to Distilled Spirits of the Council (Discus), whilst Superpremium, including Diplomático and La Hechicera, amounted to just 3%. . Conversely, Super Premium Scotch was 15% of the total, and Tequila equivalent was 23%. "We have a long way to go," grants Beaslay. "However, this is also our great chance.
To read more click here
-------------------------------
818 Tequila has inked a US distribution agreement for Southern Glazer's Wine and Spires, created by model, and keeping up with the famous Kardashians, Kendall Jenner.
818 Tequila has inked a US distribution agreement for Southern Glazer's Wine and Spires, created by model, and keeping up with the famous Kardashians, Kendall Jenner.
The 818 Tequila distribution in California will commence in Süd Glazer before the beverage will be launched across the US during the summer.
The transaction includes all three Tequila brands: 818 Tequila Blanco, 818 Tequila Reposado, and 818 Tequila Añejo. As the latest in a wave of celebrities to open their agave spirits business in February, Jenner joined George Clooney's, Rita Ora' and Dwayne's The Rock's Johnson for the first time. This has led to controversy in the business, with analysts questioning cultural appropriateness and the sustainability of the agave agricultural methods of some brands.

To read more click here
--------------------------------
19th May 2021
Diageo is preparing for the summer with Smirnoff Pink Lemonade's latest addition to its lineup.
Smirnoff Pink Lemonade will be available in the US with the debut of Ice Pink Lemonade by Smirnoff and Pink Lemonade by Smirnoff Pink Lemonade. Pink Lemonade Smirnoff has a 30% ABV and is priced at RRP US$ 11.99 for each bottle of 750ml or US$ 17.99 per liter. The spirit beverage is referred to as 'sweet and tart' with 'zesty lemon' flavor, and 'raspberry and strawberry.'
A cold shot, preferably with sparkling water, is suggested.
To read more click here
-------------------------------
Thomas Aske and Tristan Stephenson enterprises have obtained their whisky pouch subscriptions club, Whisky Me, a £75,000 (US$105,000) investment in hit BBC Dragons' Den show.
Body: The three dragons — Deborah Meaden, Peter Jones, and Tej Lalvani – have got Aske and Stephenson investing.
For Whisky Me all three dragons offered a collaborative investment negotiation by Aske and Stephenson with all three investors.
It was Aske and Stephenson, founding members of the Worship Street Whistler and Black Rock clubs in London, who accepted £75,000 for a stake of Whisky Me of 15%, shared between the two.
To know more click here
-------------------------------
The owner Edrington of Macallan has created new branding for mint Naked Grouse to 'more approachable' whiskey.
Body:
The brand was renamed Naked Malt and the bottle modified, but the formulation of the beverage remained unaltered.
A barrel, a reference to 6 months of the malt used in the first-packed olorous Sherry barrels, is used for the new 100 percent recyclable packaging.
To know more click here
-------------------------------
17th May 2021
Jim Beam, a bourbon company, has introduced two new canned Highballs to its ready-to-drink range.
Jim Beam Highball and Jim Beam Ginger Highball are the most recent additions to the Jim Beam range. The canned options feature a 5% alcohol by volume (ABV).
The expressions are inspired by the 'sessionable' Highball cocktails and aim to provide consumers with a 'refreshing, convenient alternative to beer.'
To read more click here
-------------------------------
This month, more than 240 limited edition Fèis lé Scotch whiskies will be auctioned, including sought-after bottlings from Port Ellen and Bowmore distilleries.
The Whisky Auctioneer online auction started on May 14 and will end on May 24. The Islay Festival Auction has been described as having the "most broad and complete collection" of Islay distilleries' whiskey. The bottles are from the 'Pat's Whisky Collection,' a stockpile of 9,000 bottles that was auctioned off last year.
To read more click here
-------------------------------
Maker of Johnnie Walker In its fiscal year 2021, Diageo predicts organic operating profit growth of at least 14%, and it has restated its commitment to repay billions of pounds to shareholders.
Diageo's revenues fell 4.5 percent in the second half of 2020 in January of this year. During the first half of the year, the firm saw 1% organic growth, with North America being the only area to rise by 8%.
Diageo stated in its most recent statement that it has seen a "solid recovery" across all areas.
To read more click here
--------------------------------
13th May 2021
The Margarita is the world's most popular drink, according to new research unveiled on World Cocktail Day, May 13.
Ready-to-drink and mixer business Funkin collected Google search volume details on the most-searched-for serves around the world to decide "each country's favorite cocktail."
The Margarita was labeled as the most popular drink in the world, based on data from 115 countries. It was the most sought-after drink in 30 countries, including the United States and the United Kingdom, with an average of 546,280 searches.
To read more click here.
-------------------------------
The Licor 43 Horchata vegan cream liqueur by Zamora Company is now available in the United States.
The introduction is the first line expansion for the Spanish liqueur brand in the United States. Licor 43 Horchata is a 'light and smooth' hybrid of Licor 43 Original and popular horchata, a drink made with tiger nut, sugar, cinnamon, and citrus from Valencia, Spain.
The liqueur is made from a vegetable base and has a 16 percent ABV. It is soy, gluten, and nut-free.
To read more click here.
-------------------------------
12th May 2021
Skyy Vodka, which is owned by the Campari Group, has received a total makeover, including a new recipe, bottle design, and logo.
To update its vodka recipe, Skyy collaborated with chemists, skilled bartenders, and a water sommelier. The new liquid is crafted with mineral-enriched water from the San Francisco Bay Area in the United States. These minerals are said to give the vodka a "subtle salinity and minerality," and were added to improve the mouthfeel and taste of vodka and soda. Skyy Vodka is priced at US$12.99 per 750ml bottle and has a 40% ABV.
To read the whole news, click here.
----------------------------------------------
Brockmans Gin, an English gin company, is expanding throughout the United States, with new distribution partners in Washington and Minnesota.
The producer has secured deals with American Northwest Distributors in Washington and Vinocopia Distributors in Minnesota to find new on- and off-trade listings with the Blue Ridge Spirits & Wine Marketing, its national distribution, and marketing partner. Brockmans has submitted a planning application to build a distillery in Cambridgeshire earlier this year and has secured a £4.6 million (US$6.3 million) investment in 2020.
To read the whole news, click here.
---------------------------------------------
According to IWSR Drinks Market Analysis, the hard seltzer category will "far exceed" an initial estimate of 281 million case sales in the United States by 2023, two years ahead of schedule.
IWSR estimated that by 2023, hard seltzer sales in the United States would have more than tripled to 281 million nine-liter cases.
Mark Anthony Brands' White Claw has been at the forefront of the category's popularity in the United States. The brand has recently spread outside of the United States, to Australia and the United Kingdom.
Brewdog, Jose Cuervo, Smirnoff, East London Liquor Company, and celebrities like chef Gok Wan have all joined the growing category of flavored alcoholic sparkling waters.
To read the whole news, click here.
---------------------------------------------