4th Edition of USA Trade Tasting Was a Huge Success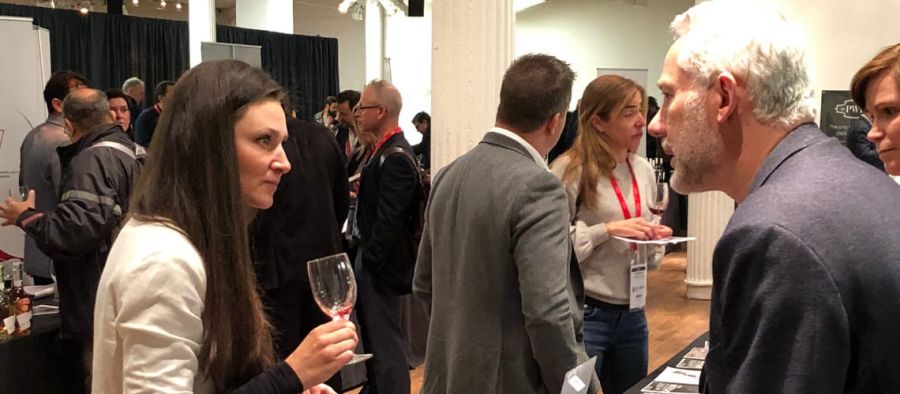 2019 USATT brought together 100+ suppliers and 2000+ US buyers in New York City on May 13-14.
This Week, importers and distributors from across the United States gathered at the fourth annual USA Trade Tasting (USATT) event in New York City to discover new wine and spirits brands looking for distribution within the U.S. market. The event featured an exhibition trade show floor at the Metropolitan Pavilion with 100+ tasting tables and exhibitors from over 20 countries. For two days, importers and distributors could meet with suppliers from Europe, South America, Australia, and Asia in order to learn about new products that could be introduced into the U.S. market.
This year's USATT event also included the Alcohol Beverage Importers & Distributors (ABID) Conference dedicated to small and medium-sized wine, beer and spirits importers and distributors; the Future Sommelier Session; and a showcase of the winners of the recent USA Wine Ratings, USA Spirits Ratings, and USA Beer Ratings events. As a result, participants could walk away from the two-day event with extensive insights and actionable knowledge that they could use to grow their bottom line, as well as new relationships that they could use to extend their distribution network within the U.S. marketplace.
Day 1 of the USATT event started with a morning keynote address by Larry Lieberman, CEO of Lieber Fine Wines & Spirits in New York, who outlined some of the key factors that wine brands should keep in mind when expanding to the U.S. market. First and most importantly, says Lieberman, wine brands in search of distribution need to be able to show a potential distributor that they can deliver a positive return on investment (ROI).
That theme of delivering a tangible return on investment was one that many of the other speakers at this year's USATT emphasized. It is not enough for aspiring foreign brands to have a superior product – they also have to show that their product can be successful financially when added to the portfolio of a distributor. On that topic, Daniel Sullivan, Wine Director of Super Buy-Rite, discussed what retailers are looking for from their distributors and importers. Factors like value, quality price ratio and profitability are all important concerns.
Another big theme at this year's 2019 USATT was brand building. What's the best way for foreign brands to attract potential U.S. consumers? Gordon Little, Co-Founder of Little Peacock Imports, talked about the brand-building process for any foreign winemaker looking to gain distribution within the U.S. market. Based on his own experience working with Australian wine brands, Little noted that wine brands need to develop a clear and effective pitch that is true to what they deliver to the consumer. Robert Bradshaw, President & COO of Cape Classics, also talked about the role of authenticity in building a brand, highlighting the work that he did in making Jam Jar from South Africa a new type of premium sweet wine for consumers who were new to the wine category. Luxury wine brand specialist Eric Guerra of Reserve Tastings Wine Co. explained what goes into making a wine brand one for which consumers are willing to pay a significant premium.
On both days of the USATT, Ben Salisbury, President of Salisbury Creative Group, led participants in exploring new thinking and approaches to selling. In his "Modern Selling For Distributors and Importers" presentation, Salisbury discussed the core myths and misconceptions that can prevent a sales team from reaching optimal performance levels. In many ways, he says, "Less is more." Narrow your focus and emphasize your top accounts.
Other speakers at USATT explored additional aspects of achieving success in the U.S. marketplace. Legal expert Donna H. Hartman, Esq. discussed the protection of trademarks and other intellectual property of wine and spirits brands; Bill Sciambi, Co-Founder and Chairman of Verity Wine Partners, and Alexis Smith, former Director of Employer Branding & Digital at Anheuser-Busch, talked about the importance of hiring and retaining the very best talent; and Bob Trimble, Owner of La Lumiere Selections, analyzed some of the best-in-class business practices for achieving profitability and gaining market penetration.
In addition, this year's USATT featured for the first time ever the "Future Sommelier" session, in which a panel of sommeliers talked about the evolving role of the sommelier. New technologies – such as social media and mobile wine apps – are completely changing the game in how young millennials think and talk about wine. Wine brands looking to break into the U.S. market need to keep these trends in mind.
Throughout both days of the USATT, the Grand Trade Tasting on the main floor of the Metropolitan Pavilion generated buzz and excitement, with buyers and sellers coming together to discuss possible distribution opportunities in the U.S. marketplace. Whether you were looking to find a new organic wine from Argentina or a new premium spirit from Colombia or Mexico, it was possible to find it on the trade tasting floor. In addition, the Grand Trade Tasting featured many innovative products – such as canned cocktails and botanical infusions for spirits – that have the potential to disrupt the U.S. on- or off-premise trade once they gain broader distribution within an influential market such as New York City.
Looking ahead to 2020, the organizers of the event, Beverage Trade Network, are already thinking about ways to expand the USATT event even more in order to make it the premier event in the United States for importers, distributors and retailers in the wine and spirits industry to meet, network and discover new and exciting brands.
About USA Trade Tasting (USATT)
The USA Trade Tasting event is committed to cultivating a better conversation among all tiers of the wine and spirits trade, connecting small and medium-sized wine, beer and spirits companies with the resources and connections to grow their business and their bottom line. The USATT is produced by Beverage Trade Network (BTN), which organizes events for the alcohol beverage trade around the world.